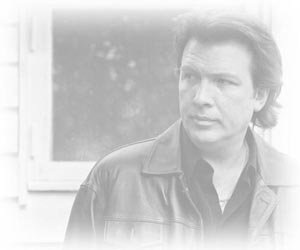 Press release
This press release can be used freely. It was written for the album "Right around the corner".
Goodbye Blues - Hello Success
Tore Andersen releases new album
They can deny it all they want. All these recording artists who claim they never look for a hit. This song that sticks to your radio, glues to your consciousness (or unconsciousness), and guides your footsteps to the local record shop, or to a legal (ha ha) download site on the world wide web. But the truth is, a real hit record is worth its weight in gold. And not only for the artist, but also for you, the listener. If the hit record is a really good song it will make your day just a little bit better, just like Elvis Presly stated with all his authority for many years ago.
Tore Andersen is probably Norway's only real country singer and songwriter. Last fall he provided this really good song with the radio hit "Goodbye blues". With a little help from "The Singer" in Norway, Paal Flaata, "Goodbye blues" was the hallmark of tight Everly Brothers harmonies in a twangy Buddy Holly arrangement using acoustic guitars. If you can't enjoy "Goodbye blues" on your car radio, buy a new car!
One of the reasons for Tore's success with "Goodbye Blues" is the fact that he is not in a hurry. Actually, Tore has not released an album since before the turn of the century. His latest album so far, the follow-up to his 1993 debut The Hero in me (BMG/ Ariola) hit the stores in 1993 simply titled Tore Andersen (New Cut records).
The fact that Tore chose to name his third album Right Around the Corner (Wilma records) does not mean that it was postponed. On the contrary, it is so full of really good songs that it could not be held back any longer.
The work with Right Around the Corner was done in Whorehouse Studio (!) on the east side of Oslo, Norway's capital. It took a long time to make it. During the studio sessions Tore, and his co-producer Ernst Nikolaisen, was assisted by Norway's probably best studio and session musicians. Trond Augland dropped in to play the drums, Kyrre Sæthran provided the bass lines, while Lars Håvard Haugen contributed with his guitars. In addition, Henning Antonsen's pedal steel guitar and the "Meget i Sløyd" trio with Øystein Fosshagen (fiddle), Knut Hem (dobro) and Terje Kinn (banjo) added the spice.
Tore Andersen has been a professional musician for more than 25 years. He is a songwriter, a singer and a touring musician, and he has worked with Ottar "Big Hand" Johansen, Rita Eriksen, Henning Kvitnes, Hilde Heltberg, Bjøro Håland, Bill Both - just to mention a few. He also contributed to Knut Hem's allstar ensemble; "Hemisfair". Their album "Blue Blue Grass of Home" was nominated for a "Spellemannspris" (Norwegian "Grammy") award.
Tore has also visited Nashville frequently. In Nashville he has written many songs with several of the Music City's experienced songwriters, including K aren Pell and Michael Woody. These are both co-writers on "Goodbye Blues". He has also worked with Kathy Louvin, daughter of departed Louvin Brother, Ira.
- Everything is based on the song. My strength is the melodies. That's why I like to work with good lyricists, says Tore about his trade.
One of the contributors to Right Around the Corner is Tom Russell, by many regarded as one of the most prominent current lyricists in American music. Tore and Tom has together written the song "Cowboy at Heart". This is one of the many songs that make Tore Andersen's third album to a mature and well reflected record. It signifies a creative leap for Tore Andersen as an artist. With Right Around the Corner Tore has probably made the album of his career.