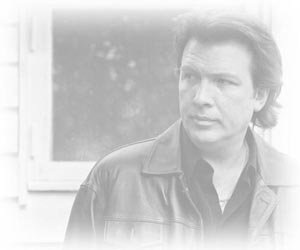 Right around the corner
Tore Andersen's third album was finally released in 2009. And it met all the expectations!
Øyvind Rønning, Dagbladet, 16.03.2009: Tore Andersen is soon the only traditional country artist in Norway that is not targeting the gas station audience. It is actually 11 years since his latest album, and that says something about his demand for decency ... For that reason he is supported by top quality session musicians ... well performed workmanship ... the album is very proper ...
Stein Østbø, VG, 17.03.2009: Since the early nineties Tore has been one of the two Andersens in Norwegian music with voices out of the ordinary ... the time must come for Tore Andersen now ... Andersen's voice is warm, generous and very pleasant, he writes good songs .... and the sound is flavoured by organic spices of the most successful type. Check out this guy!
Reviews in English can be found here: Reviews in English
Titles
Right around the corner (Tore Andersen/John Reynolds)
Jamie (Tore Andersen/Martin Hagfors)
Goodbye blues (Tore Andersen/Karren Pell/Michael Woody)
I wish the snow would keep falling (Tore Andersen)
Montgomery Train (Tore Andersen/Karren Pell)
A stop along the way (Tore Andersen)
Howling in the dark (Tore Andersen/Suzanna Spring)
Little Red Car (Tore Andersen/Tim Krekel)
Good days and bad days (Tore Andersen/Richard Dobson)
Cowboy at heart (Tore Andersen/Tom Russell)
The train left town (Tore Andersen)
Whenever I fell in love (Tore Andersen/Steven McClintock/Ottar Johansen)
Ain't life sweet (Tore Andersen)
Producer
Musicians
Anders Rensvik: Viola
Egon Olsen: Background vocals
Einar Torbjørnsen: Keyboards
Ernst Nikolaisen: Guitars
Geir Otnes: Accordion
Henning Antonsen: Steel guitar
Hilde Heltberg: Background vocals
Knut Ragnar Hem: Dobro
Kyrre Sætran: Bass
Lars Håvard Haugen: Guitars
Lina Marie Årnes: Violin
Lise Sørensen: Violin
Ottar Johansen: Background vocals
Paal Flaata: Vocals ("Goodbye blues")
Steinar Albrigtsen: Vocals ("Cowboy at heart")
Terje Kinn: Banjo
Tore Andersen: Vocals, Guitars, Background vocals, Keyboards, Mandolin
Tove M.F.Erikstad: Cello
Trond Augland: Drums, Percussion
Øystein Fosshagen: Mandolin, Fiddle