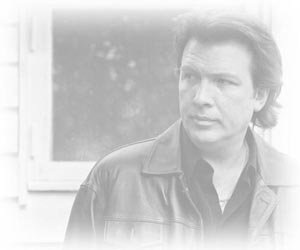 Tore Andersen
This is Tore's second album. We had to wait five years, it was released in 1998.
Øyvind Rønning, Dagbladet, 29.09.1998: Tore Andersen's biggest advantage is his decency and his voice ... a rock solid product with excellent - and mainly his own - songs, and great musical workmanship ... Andersen is still one of our best songwriters and performers within the country and western genre.
Stein Østbø, VG, 21.10.1998: From Stjørdal, Tore Andersen made his debut five years ago with soft country & western. His has now fine tuned his musical expression and cultivated his singer/songwriter style - with great success ... Tore Andersen sings with a strong and warm voice, and he writes very good songs ... this record is a pearl.
Titles
Hard water (Tore Andersen)
A little love (goes a long way) (Tore Andersen)
Between two rivers (Tore Andersen/Tom Russell)
If I had the heart (Tore Andersen/Martin Hagfors)
The willowtree (Tore Andersen/Karren Pell)
By the light of the moon (Tore Andersen)
Blue, blue day (Don Gibson)
Two lane highway (Tore Andersen/Henning Klevmark/Bill Booth)
Bad news (Tore Andersen)
Silverado (Tore Andersen)
Nothing left to loose (Tore Andersen/Karren Pell)
Harbour for my heart (Tore Andersen/Karren Pell)
Producers
Tore Andersen
Jørun Bøgeberg
Ottar Johansen
Musicians
Anders Engen: Drums
Arne Skage Jr: Slide guitar
Bent Egil Hanssen: Keyboards
Claudia Scott: Background vocals
Egon Olsen: Background vocals
Geir Otnes: Accordion
Jørun Bøgeberg: Bass, Guitars, Background vocals
Johanna Demker: Background vocals
Kåre Christoffer Vestrheim: Keyboards
Knut Hem: Weisenborn
Kristin Alsos Strand: Cello
Lars Håvard Haugen: Guitars
Ottar Johansen: Background vocals
Terje Nohr Olsen: Guitars, Slide Guitar
Tore Andersen: Vocals, Guitars, Background vocals