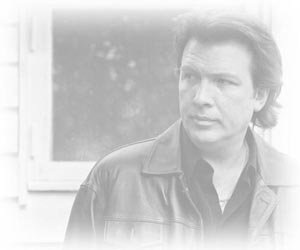 Biography
Get to know Tore Andersen and his musical universe.
Open this biography as a TXT file
Trondheim 1979. The musical community was huge. The local newspaper "Adressa" was filled with advertisements for local dances. The restaurant Skansen was popular on Sundays, and everyone went to Hawk on Mondays. And Åge Aleksandersen (now famous Norwegian singer/songwriter) was working at the Musikkmann musical instruments outlet in Fjordgata.
Both a professional jury and the audience had just voted Tore Andersen "Talent 1979". Nearly all his competitors were experienced vocalists from local bands, and they all sang the latest hit songs. None of them had ever heard of 19-year old Tore. He came alone with a beat-up acoustic guitar, a new country shirt, and he sang "City of New Orleans".
A recording contract with Arctic Records was drawn up, and Åge Aleksandersen was appointed producer. Tore selected songs penned by Guy Clark, Gram Parsons and Rodney Crowell. The record company did not approve.
- Jahn Teigen singing in Norwegian sells, they said.
- Get out on the road and play, said Åge Aleksandersen.
Since then Tore has not looked back.
Tore grew up in a musical family with his mother's piano at the middle of the living room. She was classically trained, but Tore soon decided to switch from piano to his dad's old Hansson acoustic guitar. The familty moved from Oslo, through Halden and finally to Stjørdal, one hour north of Trondheim. Tore's spare time was soon to be dedicated to music, band practises and non-stop guitar picking in front of the record player.
On his 17th birthday, a friend gave him Emmylou Harris' album "Luxury Liner". Tore immediately knew what kind of music he would play.
At that time, country & western music was really uncool. Still, Tore sacrified some of his allowances and bought a steel guitar. Then he learned to play the banjo and mandolin too, and went out on the road with Trondheim's only country band, "Stive Fingra" (Stiff Fingers), as a fiddle player(!). His reputation grew, and soon lots of collegues knew about the eminent singer and musician. 22 years old his was offered a permanent job in the legendary band Vikings. It was to be the start of ten years with thousands of miles on Norwegian roads.
As a vocalist and guitar player in Vikings Tore would soon start recording, and he made his debut on national TV. He worked with Bjøro Håland, both on tour and in the studio, and slowly, but surely, the songwriter Tore Andersen started to shape up. In 1991 he was headhunted to Ottar "Big Hand" Johansen's band. Tore had by then several of his own songs ready. A demo recording, as well as a TV apperance in a popular music program on national TV, led to a recording contract with record company BMG.
After 11 years on the road, Tore's first goal was achieved in 1993 by the release of The Hero in Me (BMG/Ariola). Characterized by radio DJ Rune Halland as "Norway's first modern country album", it contained radio favourites like "Watching the Snow" and "Hearts, they fall in love". Recorded in Nashville with several of the city's best session musicians, among others Jerry Douglas and Brent Mason, the album contained only new and original songs. The critics were very positive.
Earlier the same year, during the recording of the TV series "Hillbilly Highway", Tore had met up with sibling duo Rita og Frank Eriksen. He was chosen as Rita's duet partner at the "Spellemannpris" show (the Norwegian "Grammy"), and he contributed as singer and composer on Eriksen's album "The water is wide". As a matter of fact, it is Tore singing the duet vocal on the title track, and not brother Frank. Tore also participated on Eriksen's tour at the same time as he promoted his own album and songs. Several other radio and TV appearances took place after this, and he recorded a video for "The fool I am". That was to become one of the very first European country videos to be aired on Country Music Television (CMT).
In 1994, Tore provided songs and duet vocals on his old friend Ottar "Big Hand" Johansen's album "Passion & Trust", and in January 1995 he participated on the Elvis Presley tribute album "Elvis Tributter". This was the beginning of a comprehensive activity as a session musician, and Tore has since this given his talent to artists like Hjerterknekt, Casino Steel, Bjøro Håland, Guren Hagen og G. Thomas. Together with Bill Booth, Henning Kvitnes and Hilde Heltberg, Tore was also a part of "The Quartet", a touring singer/songwriter project.
After switching record company, Tore released Tore Andersen (New Cut Records) in the fall of 1998. Recorded at the Waterfall Studio in Oslo with Jørun Bøgeberg and Ottar Johansen as co-producers, this album presented a tougher and less polished side of Tore. The critics agreed that Tore had grown both as a songwriter and as an artist, and several of the major news papers ranked the album very high. The singles "Between two rivers" and "Hard water" received a lot of airplay. The album was followed with heavy touring covering most of Norway, and also concerts in USA, Switzerland and the Netherlands.
After the turn of the century Tore has been involved with several projects, mainly as a songwriter. However, Tore still loves to perform live, and among other gigs you can still hear him every year at the country festival Norsk Countrytreff in Breim on the western coast of Norway. He also enjoys performing with his old friend Ottar "Big Hand" Johansen and his band "Big Hand Saloon". Some of the side projects have distingushed themselves, especially Knut Hem's album/project "Hemisfair", which in 2007 released the album "Blue Blue Grass of Home". That album was even nominated for a "Spellemannspris" award.
During the last years, Tore has frequently visited Nashville to write songs with an increasing number of good friends. Some of the results from these visits are presented on his latest album Right Around The Corner (Wilma Records, 2009). Produced by Tore, assisted by Ernst Nikolaisen, and engineered by Kai Andersen in Athletic Sound, the new album demonstrates the musical span in Tore Andersen's musical universe.